Subterranean Homesick Blues: Tom Waits – Swordfishtrombones
In which our hero abandons his barfly beatnik persona to become the carnival barker of the damned, the poet laureate of sailors on shore leaves, of amputees and blacksmiths and the black dirt of the Bible Belt for the first time.
Something happened to Tom Waits between 1980's Heartattack And Vine and 1985's Rain Dogs. Actually, several somethings. First and most significantly, Waits married his wife, Kathleen Brennan, whom he had met while working together on One From The Heart, where she was working as an editor. For two, he transitioned away from his previous manager, Herb Cohen, and began managing his own affairs. Thirdly, he transplanted himself and his new family from Los Angeles to New York City. Fourthly and most significantly, especially for this recounting, Tom Waits decided to musically reinvent himself, deciding to take over production duties himself, with assistance from Kathleen Brennan.
Deciding to self-produce Swordfishtrombones was a ballsy move. After taking over managerial duties, Waits discovered that he and his new family were broke. There's some disagreements as to the veracity of these claims, but there were allegations that Waits' former manager Herb Cohen had been mismanaging Waits' funds, as well as some of his other clients. Waits choosing this moment for musical transformation was akin to going all-in on a pair of Kings and a High Ace, betting the farm on the Hail Mary of another King or Ace.
With Swordfishtrombones, all praise to the Gods of randomness and chance, Waits got both, turning out an Aces Full Of Kings with a non-committal shrug and an Alfred E. Newman shrug, making it look easy, like this turn of fortune was expected, like he does this all the time. Maybe he'd made a pact with the Devil at the crossroads at midnight, or a blood sacrifice in a cornfield, blood seeping into rich black soil while a scarecrow looked on without judgement. Good thing for him, Waits is just waiting for an excuse to pump 16 shells into his belly with his trusty 30.06.
Swordfishtrombones is a bold musical step for Waits but its not as much as a stretch as it might seem at first glance. If you listen closely, if you really pay attention, you'll discover that Waits' eighth studio LP is a microcosm of his entire musical trajectory, from the sadsack loser surrealism of "The Piano Has Been Drinking" to – the bricolage iron foundry concrete of Bone Machine, the doomed apocalyptic Americana of Mule Variations, the literary Kurt Weill threepenny operas of Alice and Blood Money.
Kathleen Brennan, an expert DJ according to Waits, encouraged Waits to express more of his listening tastes in the studio, from the angular Avant-Blues of Captain Beefheart to the hobo microtonalism of Harry Partsch to the exotic instrumentation of old field recordings. These explorations both encouraged Waits to expand his room full of musical tools, to quote Syd Barrett, from African anklungs to glass harmonicas.
Despite its musical exotica, Swordfishtrombones is American music. We're not talking the brash, shrill patriotism-bordering-on-nationalism of John Philips Souza marches, although some of that is on display ("In The Neighborhood") but a true American music – welcoming, accepting, inclusive. Mimicking Waits' literary obsession with all things subterranean, on Swordfishtrombones, he is mining the American subconscious for musical ore. In David Smay – Swordfishtrombones (33 1/3 Series), (more on that in a moment), author David Smay talks about the "Old Weird America" of Bob Dylan's Basement Tapes, as put forth by music journalist Greil Marcus, a world of rag tattered Salvation Army bands oompahing it up on streetcorners, fingerless gloves to keep their hands from going numb on baritones, trombones, and euphoniums. It is also a music of Mariachi bands and Latin American tangos and Eastern European liturgical music. It's as if the residents of the hometown from The Deer Hunter were to gather at the elk's lodge to perform some cut-up Dada poetry with the local gazette, union newsletters, and novels by Ernest Hemingway and Saul Bellows
Instead of tiki torches as neo-fascist symbol, Tom Waits encourages us all to sit down in their ring of fire and have a drink, a Singapore Sling or some White Lightning or even some good old-fashioned lemonade in crystal-sweating glass pitchers. This is music for loving yr neighbor, for coming together in celebration and song.
This is music for loving yr neighbor, for coming together in celebration and song.
If The Grateful Dead's cosmic american music, purifying and refining the base ingredients of jazz, folk, country, bluegrass, gospel, and rock 'n roll in a psychedelic crucible to produce a lysergic red, white, and blue witchfire. If the Grateful Dead are yr hip, older uncle who lives with an impeccable record collection on the outskirts of town with a still and a homegrow operation, than Tom Waits is the mystical younger cousin, the Harry Partsch to the Deads' Charlies Ives; Harry Smith as alchemist, magician, and avant-garde artist as much as folklorist and field recorder.
While, lyrically, it may seem that Tom Waits is being evasive or obtuse, as he is known to be during interviews, if you read between the lines, you'll discover that Tom Waits is opening up, about his life, his family, his Self, his artistic process. Lyrical references to crows and mules abound, which are often used as a shorthand for Waits' himself, while his new bride appears in allusion, from a reference to her hometown ("Johnsburg, Illinois") to the role she plays in his life and music ("Ma, cook them feathers on a tire iron spit", "16 Shells From A Thirty Ought Six").
Swordfishtrombones is as much a novel as an album, if not more so. It's the first in the trilogy of "Frank" records, the others being Rain Dogs and Frank's Wild Years. Not only was Waits proving himself as a musical chameleon and alchemist but also a truly great American voice, somewhere between the Southern Gothic of Flannery O' Conner and the doomed Bible Belt apocalypticism of John Steinbeck to the outsider epiphanies of authors like John Henry O' Toole and Hubert Selby Jr.
Tom Waits is the Balthus or Baudelaire to Selby's Francis Bacon, however. Tom Waits seems to legitimately love his losers and outcasts – he's no misanthrope. He finds the intimacy and poetry of a midget prostitute sitting in yr lap, as Tom Waits once described to Jim Jarmusch. He proves there is honour among thieves and true magick to be found in the margins.
Listening back to Swordfishtrombones 37 years later, it's impossible to not hear its sonic genetics. You can trace the literary verboseness of the late, lamented Vic Chesnutt or the suburban angst of John Darnielle/The Mountain Goats. You can hear the rustbelt avant-garde folk of bands like Califone. You can hear the rough cubist angularity of the Downtown New York scene.
And yet, for all of this, you'll never hear anything like Swordfishtrombones, before or since.
33 1/3 Series: Swordfishtromboes – David Smay Book Review

As a brief post-script, i'll share some thoughts on David Smay's entry into the 33 1/3 Series by Bloomsbury Books, the 53rd entry into the series (the inspiration for our very own 66.6 series.) It's also the finest entry in the series i've read thus far.
For the unitiated, the 33 1/3 series is described as "ideal for the rock geek who thinks liner notes are not enough," as put by Rolling Stone Magazine. Even for the 33 1/3 series, David Smay's entry on Swordfishtrombones is beyond obsessive and thorough. Smay's analysis is no navel gazing, however. This isn't music journalism as forensic accounting or trainspotting – this is more fanatical than fanboy, more dissertation than disarticulation. Smay proves himself to be a true scholar, both of Tom Waits as well as music in general. For this slim tome, Smay pours over all of the available Waits biographies, performing the praiseworthy task of separating fact from bullshit. Luckily, he doesn't necessarily say which is which.
David Smay's Swordfishtrombones is passionate, knowledgeable, heartfelt, personal. It's as peppered with minutiae and anecdotes, like Tom Waits' first daughter Kelly comparing his version of "Heigh Ho" to a witch being pushed into a vat of acid or Kathleen Brennan calling his schmaltzy, sentimental ballads "bullshit."
It's also peppered through with close readings and literary analysis that would make Howard Bloom blush, like tracing references to crows throughout Waits' discography, making the astute observation that Swordfishtrombones is the last time Waits' refers to scarecrows.
If only all musical journalism could be of this caliber. (Even if it raises the stakes for our own humble musical musings.)
Both Swordfishtrombones and David Smay's 33 1/3 volume should be considered essential reading and listening for anyone looking to understand American music, Tom Waits' oftentimes perplexing musical journey, or simply those interested in great music!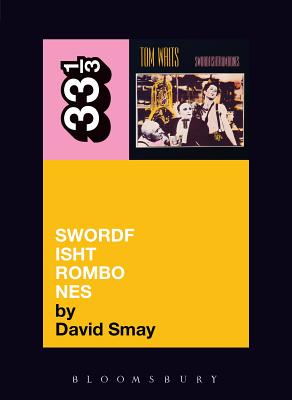 What are some other classic albums you'd like to see written up on Forestpunk? Which volume of the 33 1/3 series would you like to see reviewed next? Let us know in the comments, and thanks for reading!
Bloomsbury Books
@bloomsburyPub
ig: @bloomsburypublishing
Bloomsbury FB
Bloomsbury Pinterest
Bloomsbury YouTube
Looking For More Music News And Reviews?
Follow @for3stpunk on Twitter and Instagram, Letterboxd, Trakt TV, Goodreads, and Pinterest, and drop by the Facebook page!
Want to support Forestpunk? Every donation allows us to further spread our mad magickal mission!